14 Memorable Movie Moments in 2013
2014 is just days away. In general, I think I managed to see some great ones, even before Oscar season. Some underrated, some overrated, some just plain excellent. Time to look back to movies we saw in 2013 by using my feature Memorable Movie Moments. The keyword here is memorable, means unforgettable, shocking, or wonderful. Some of them might not be the best as a whole movie, but some scenes can't be taken of our mind even after sometime we see them. Recognize these images? We might share the same great movie moments in 2013. Here it is :
I can't say I love Spring Breakers, but it is a pretty stylish, daring and provocative movie. After all of the graphic images, the robbery, the violation and the sexy revealing outfits, there's one scene that was a standout from all;  when James Franco sing Britney Spears' Everytime with a white piano, with the girls singing along (wearing their pink masks). Beautiful? Yes. Sad? Yes. Meaning? If you ask me, it represents an irony on their shortcut to happiness might killing them inside. It was a surprising change after their glorious feeling of robbering and feeling rich.
–

After the horrible killing in the dark woods, suddenly India (Mia Wasikowska), umm, please herself in the hot shower while cleansing herself. This is one odd, awkward and shocking scene in Stoker. Then again, the girl is just beginning to know herself. It's unusual and dark coming-of-age movie, a stand out for sure, though not my favorite from 2013.
–

Kings of Summer is one of the quite many coming-of-age films of teenage boys in 2013. The scene appeared in the opening and in the middle, where the boys are having fun without the supervision of adults in the woods. Playing instruments by themselves with a large pipe and chopped woods in their hands. The music was quite catchy and one of them dances pretty eccentric. Actually, one of the things I love about this movie is that it have lots of great slow motion moments with excellent scenery, not to mention the soundtrack.
–

One of the big disappointments in 2013 is watching Only God Forgives. It might fail as a whole, but I can't argue with its excellent cinematography. There's one particular scene in a hotel hallway where all the lighting turns red. It's a provocative color added with gold lights, and when you see all the walls turn red including Gosling, it turned into one amazing image.
–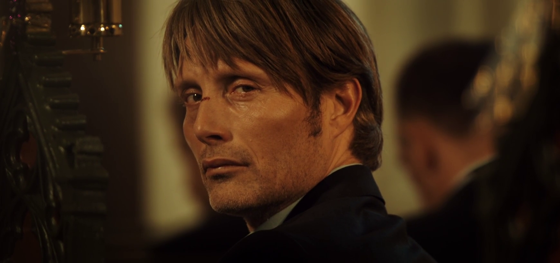 Some visuals don't need an explanation or a narrated voice over. Sometimes you just get it just by seeing it. And when Mads Mikkelsen did it in one climax scene in The Hunt, you know that he expressed altogether anger, tiredness, sad and fed up. Excellent scene and incredible performance. Mikkelsen should have an award for his acting here.
–
Without a doubt, Act of Killing is one unforgettable documentary. Not only because it involved the tragedy happened in my own country, but it was a shocking moment for me to see some truth behind it. The memorable scene was when Anwar Congo and his friends reenacted the torture. Congo as the prisoner, but he was too emotional finish it he asked to stopped the reenactment. I think it showed humans are just human who ultimately still have heart, even after killing many people.
–

Young and fragile, everyone have those moments. Frances embraced her life with full of possibilities, when she's out of money and when she feels alone. Singing in the background is David Bowie's Modern Love, Frances runs with her sneakers and leather jacket. I actually fall in love with Frances Ha parts of it because of its cinematography and the fact that it dared to shown in black and white. The movie is very youthful and modern, but not at all shallow.
–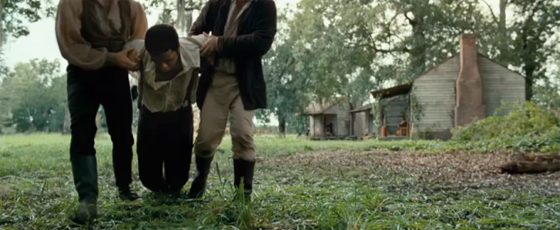 There's a lot of violence in 12 Years a Slave, makes it uneasy to see. But you can't just look away because what happens disturbed you as a human being. There's one scene where Solomon is hanged on a tree quite long, without any video edit. Wonders me on how the actor/stuntman managed to breathe, might be a real reaction and not at all acting. And you as a human find it very disturbing, shocked and outraged.
–
Richard Curtis's About Time is one delightful fantasy drama one might see as a bad film this year. But, I still have a great time watching it and not regretting that I have seen it. To me the best scene is when the couple got married in their home near the cliff. The rain falls heavy filling up the tent, and the tent broke down flooded the guests. But they all just laugh and running for covers. I don't know if it can happen in real life, but it's a nice change rather than frown faces. This falls to my category of one of the best wedding scene.
–
I am convinced that the scene where Sandra Bullock floating for several seconds was made by purpose just for the aesthetic. But it is one incredible shot! Overrated or not, Gravity is one amazing journey for the eyes.
–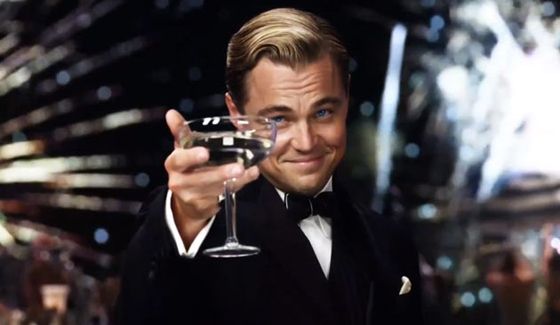 You can't forget the chaotic and supposed-to-be extravagant The Great Gatsby. There's a lot of things that went wrong in the movie. But you can't say that the visuals are poor. I think when Leonardo shows his fame and prestige, just by raising a glass behind the raining fireworks is unforgettable and iconic.
–
I don't think you can find one bad frame in To The Wonder. They are all so dreamy, natural, light and just plain beautiful. Many of the affection expressed in the movie creates a wonderful image. Including when Affleck and Kurylenko love feelings are blossomed.
–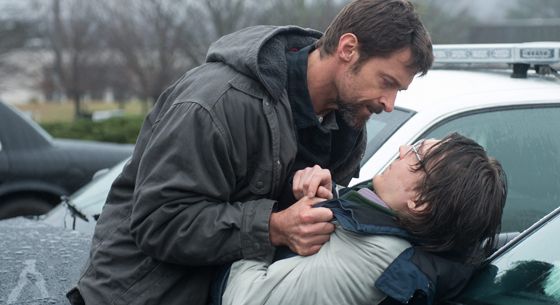 There's a lot of possibilities and possible villains in Prisoners. The first one is Alex (Paul Dano), an adult with the brain of an 8-year-old. Just when he is released from prison, Jackman pulls him between the car and the guy mouthed some words that reveal little new information that proven he's the bad guy. The problem is, only Jackman can hear him. Such a shocking and confusing moment you possibly can't find in another thriller movie.
–
Falling in love and its ups and downs magnified in Blue is The Warmest Color. Two young girls connect and they couldn't deny the attraction to one another. Yes, there's that one intense bed scene guys would die to watch, and possibly the only thing they can remember from this movie. But there's one scene when the two girls kiss in the center of shining sun, it is one beautiful shot. It seems to represent a big beautiful start of a relationship.
**************
Readers, what's your unforgettable/memorable movie scene in 2013? Any thoughts?