30 Days Recap : January 2014
Hey readers, how was your January? In a nutshell, January was pretty rough. With the heavy rain that makes the city flood, it's unbelievable that amount of water could paralyzed half the city. The only flood near my house was little road near the small lake. But, the flood hampered the road to places, like my office and places. So some public transportation were stuck or damaged. When it's always raining and cloudy, you get joyful feeling when you can see the sun. I really wish February can have more sunshine and less rain. 
flood running down the big street in Jakarta this January – photo from uniqpost.com
When I thought January will be busy, but as it turns out I have more time for myself. When you're not blogging, you actually make more time to… watch movies. 2 months before Oscars, I can't help but seeing these nominated films. It looks like I can catch up big on why these films get nominated. If not from the story, it's from the performances, or even both. So it's one excellent month on movie watching. It's a toughie picking the top 3.
It was quite a festive month with Golden Globes, Oscar nominations and Grammys too. I've started this month's Blind Spot and deleted some movies on my watch list, but I still need to see Nebraska. Also joined LCR's Recastathon.
This month I watched much more films that I divide the short reviews from the Oscar nominated films than the rest. I only make full review of the ones I really love, like Her (2013). Was surprised that I liked Blue Jasmine, because usually Woody Allen films aren't my thing.
My top 3 in January 2014 :
It's tough to pick just three out of many amazing films, but in the end your favorites just stand out. Her is just original, and Hunger Games : Catching Fire is fun and exciting to follow. Also, you can't just erase The Wolf of Wall Street in your mind after you see it.
Anyways, here's the first seen movies I've watched this month with its short review and links to the review :
2013 Oscar Nominated Films :
Saving Mr. Banks is a story behind the Mary Poppins film rights. The author, P.L. Travers (Emma Thompson) wouldn't want to consider her book to be adapted to a movie if she wouldn't be bankrupt. Walt Disney (Tom Hanks) has been trying to buy the rights for 10 years. And it seems there's no sign for Mrs. Travers to make the adaptation to be different from her mind, means she's declining almost every idea the creative team come of. But, actually there's pain behind her hard exterior. The present P.L. Travers story is combined with her childhood memories with her loving-but-drunken father and worried mother. The transition between the two stories was smooth and creative and pretty much explains why she created Mary Poppins in her stories. Walt Disney portrayed by Tom Hanks seemed charming, warm and kind, which is nice to see from the wealthy man behind Disney.
Movie Score : 3,75 Stars
–
August : Osage County (2013)

Based on a successful play, August : Osage County is a story about family crisis, when the father found missing and dead, after giving his wife, Violet (Meryl Streep) a nurse to help her with her daily life and medication, for she is suffering a mouth cancer. Both was known to have an unhappy marriage. After the funeral, her daughters and sibling gather and spend lunch together. But the gathering soon become a heated discussion and fights when the mother couldn't hold her bitter and desctructive honest opinions. Behind all, the family holds a lot of conflicts one wonders if they can hold it together.
One of the biggest problems in the family was the tough personality of the women, who are strong and dominating. At the same time, they firmly hold family values, and so it makes them hard to deal with. There's a little bit of selfishness here and there, and family secrets that are hard to hear. The story provides heavy drama, and it couldn't be pulled off without the solid acting by its actors.
They did their part really amazing, especially Julia Roberts and Meryl Streep. The only one who looked like a weak link was Ewan McGregor as Julia Roberts' husband. Abigail Reslin (Little Miss Sunshine) also starred as their only daughter. Juliette Lewis, Julianne Nicholson, Dermot Mulroney, Chris Cooper, and Benedict Cumberbatch also make an appearance.
Movie Score : 3,75 Stars
The third 'master piece' by David O. Russell after The Fighter and Silver Linings Playbook, involved some of the same actors. It's not new to see a true police operation involving big case brought up to the big screen, in fact it could be very monotonous and common. American Hustle was based on real characters and case to get politic corruptors. Maybe that's why David O. Russell modificated a lot, like Sydney (Amy Adams), Rosalyn (Jennifer Lawrence) and Irving (Christian Bale) love triangle, wasn't really happening. Unfortunately, it becomes a little bit more important than the real big case. It did help make the movie interesting.
AH's big support was the performances and the cast assemble, but the real story isn't as moving and feel a bit overrated. It felt too focused on its performances and look (includes fashion and hairstyles), that it leaves the essential. Bradley Cooper and Jennifer Lawrence performances seem too much to be praised for.
Movie Score : 3,5 Stars
When a stubborn electrician diagnosed by the doctors to have an HIV and only have 30 days to live, he struggled to find a perfect medicine. He find it eventually the expensive trial drug called AZT illegally but end up disappointed by it. Desperate because low of drug and dying he went to Mexico and meet a doctor who prescribed a better drug that wasn't approved in U.S. He bought the drug and sell it in his town, it become a success and he create a membership for it. With his partner, a transgender and a helper, the Dallas Buyers Club is a hit and threatened the doctors and FDA existence. But he fought for it, for himself and all the AIDS diagnosed people who are desperate for a better condition.
McCounaughey was as usual, gave a solid performance. Possibly the thinnest look I've ever seen of him, combined with his strong act, created a powerful image of a man, who once trifle away his healthy life to be a struggling man who wants to get himself live and also for other people who struggled the same way. Was also amazed by Jared Leto who is playing a transgender, with his attitude and care become McCounaghey's closest business partner and best friend. A powerful true story that actually changed history.
Movie Score : 4 Stars
–
The Wolf of Wall Street (2013)

A 3-hour long movie about a talented and wealthy stockbroker who end up build his own empire and fighting its existence. This movie revealed all the dirty world of a stockbroker, their crazy life style who they claimed to support the stress of their work, the ambition and greed, the lust that would never end. Maybe 'wolf' is indeed the perfect world, because the people in it was described almost like animals with ties (sorry). It's the world where they bathe with money and keep digging them. It's a blur whether what they do is legal or not.
Aside from his lifestyle, Jordan (Leo DiCaprio) is a great seller, a royal boss, and a great motivator for his employees. He's blessed with trust worthy team, like Donnie (Jonah Hill) and several stockbroker who still work for him since scratch. But to go on with his life, Jordan consume drugs to get high and surrounded by women, even though he have his second wife with a perfect A figure and fit personality. There's no place for feeling enough. But after a while, his business calls for a suspicion by FBI and a certain one have an eye for him. Jordan must do all he can to keep his empire alive and his money kept.
It's definitely a movie you can't forget, but it's not a movie I'd want to re-watch. Leo as his best after The Aviator. All I can think of the message of this movie is, getting wealthy and getting rich can be both a dream and a curse.
Movie Score : 4,25 Stars
 –
It's not a good animated movie when the 3D quality is below average, the story lacks charm and if it's musical, it's boring. But not with Frozen. The story of two daughters of a King who were once close, now feels apart. Elsa (Idina Menzel), the older sister have super powers to freeze things, when it became dangerous because it hurt her sister, Anna (Kristen Bell). Elsa followed their parents order to shut her from anyone until they grew up. When the coronation day of Elsa being the queen, the palace is open for public and it cheers Anna since she can meet people. She did, and it is Hans (Santino Fontana), who propose her right away the day they just meet each other. Elsa doesn't approve and when Anna push her, she froze things in public. She runaway to the woods and feel free, but the village turns eternally winter. Anna must find her to stop the winter and create summer again. On her way, Anna met Kristoff (Jonathan Groff) and Olaf (Josh Gad).
Stories about sister always interesting, because I can relate to the closeness. The bond and the friendship was sweet, therefore it's sad when Anna always faced Elsa's door when she wants to meet her. The characters and their voice characters were top-notch and easy to like, especially Anna and Elsa, who sings almost half the movie. Olaf is a lovable snowman character you wouldn't think would exist, since he's not as cold as his material but otherwise. Also, with Sven, Kristoff's reindeer. The plot twist and story might be a standard story on a children's story, but it somehow felt pure and enjoyable that I didn't realize it.
Movie Score : 4,25 Stars
–
Non-Oscar Nominated Films but still awesome :
The Secret Life of Walter Mitty (2013)

Based on a short movie/story, The Secret Life of Walter Mitty tells about the turning point of Walter Mitty, a Negative manager in Life Magazine, where he must leave his comfortable life to find a missing negative from a photographer. The negative must be the last cover of Life magazine. To get the missing negative, Walter traced the photographer, who keeps moving to chase big moments to be captured. Being single in his age, Walter joins an online dating membership and secretly in love with his own co-worker. Though looks calm and together, Walter have a wild imagination on things, sometimes pictured an ideal situation like in a movie.
This movie have a big potential to be that sweet heart-wrenching movie, but something felt a little off. It should feel more 'urgent' by its pacing or direction, or Walter should looked more nerdy and closeted, sad, to make viewers feel more sympathetic to him. He should be the guy who is trapped to his own comfort zone and re-discovered his dreams to be a traveller. He should be that unpopular boy in school who keeps getting bullied until the moment presented in the movie. But there's not much layers shown by Stiller nor the story. Kristen Wiig was lovely and you probably read that I love the soundtrack too.
Movie Score : 3,5 Stars
While common kids have an ordinary life, some kids and teens have tough times of dealing with their own family, that they need to live somewhere else. Grace (Brie Larson) is a supervising staff, taking care of these kids patiently like a big sister. She's the head of supervisor, with the help of other supervisors, including her own boyfriend, Mason (John Gallagher Jr.). Each kids have their own troubles and way to cheer themselves, all that she could handle. But then she meet a teenage girl, Jayden (Kaitlyn Dever) who's tough to be close with and hopes that her father will come back for her. Grace faced her own trauma seeing reflection of herself through Jayden. To help her, she might lose her job.
Saw Brie Larson couple of times in 2013 movies like Don Jon and The Spectacular Now, and was impressed. I didn't think I'll see her as the lead very soon, but she did and she did it well. There was a TV series who told a similar story of troubled kids living in a special dorm like this, it quickly reminded me of it. Maybe Short Term 12 wasn't enough to be a movie, it had to be a series too, because these kids are special but have issues. You find yourself sympathize to them and want to see their development. Grace is a classic tough gal who shuts herself from possibility to get hurt, even with her loving boyfriend. The drama was intense and these supervisors commitment to these kids were amazing, because it isn't one of those job you can do without full dedication.
Movie Score : 3,75 Stars
–
The Hunger Games : Catching Fire (2013)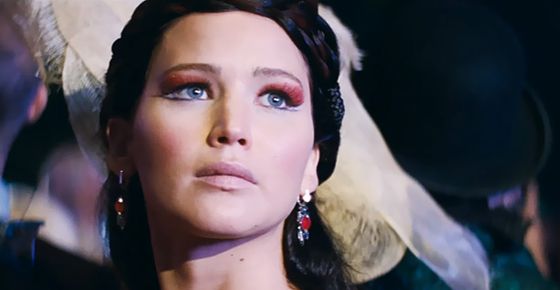 The sequel from Hunger Games tells Katniss (Jennifer Lawrence) and Peeta (Josh Hutcherson) being the survivor and celebrity. Though she doesn't want to, she must follow 'the rules' lay by Snow (Donald Sutherland) and his people. She must make the people believe that they are in love. Unfortunately, it makes Katniss real boyfriend, Gale (Liam Hemsworth) must swallow his jealousy. Snow sees Katniss to be a threat, and wants her to be exterminated. But the game maker, Heavensbee (Phillip Seymour Hoffman) convinced him to make Katniss burned by her 'own' actions.
Often sequels is just there to make more money, but this is a novel adaptation and it has proven why it gained many fans. Katniss in this movie showed more toughness, class and focus. It's 2,5 hours but did not feel long because the story keeps making you want more and more. The demand and fake love story of Katniss and Peeta, feels like today's TV sharing and rating.
This movie have great casting and great new faces, along with the well known actors like Phillip Seymour Hoffman, Elizabeth Banks, Lenny Kravitz and Stanley Tucci. Different survivors as Katniss' opponent also makes the movie colorful. Katniss have excellent and outstanding outfits, along with her make-up and creates its own fire effect. Can't wait for the next sequel.
Movie Score : 4,5 Stars
Given that Pixar is now a huge animation company that already set standard of today's 3D animated films, it's interesting to see their earliest movie. The 3D quality wasn't as smooth and progressive as now, but the story was very exciting. Some characters have their dark side, like Woody (Tom Hanks) and Buzz actually thinks he's a space ranger. Their freaky neighbor's room and modificated dolls were horrifying, looks too kinky for children, but still digestable and quite a rollercoaster to follow. Many surprising turns and comedy as well. Very impressive and excellent debut animated film.
Movie Score : 4,5 Stars
***************
 Okay, that's all of it, phew! Readers, what's your favorite movie in January and what do you look forward next month?