30 Days Recap : May 2013
Now the fifth month is almost over, now enter the middle of the month, June. Feels a bit fast, don't you think? But before that, let's move on to recap May movie watching.

Lots of things I promised to do happened in May. Like renew Inspired Ground's banner and theme, and posting Top 10 Movies in 2012. Any thoughts about the new theme?
Though I watched at most movies on May this year, but I posted the reviews most of them already. There's movies I've watched on Europe on Screen film festival, What They Don't Talk About When They Talk About Love (2013), To The Wonder (2012) and About Schmidt (2002). Only two big movies I haven't reviewed, and here it is :
Pieta (2012)

  Ended up in my Top 10 Movies in 2012 which I posted too this month. I actually want to review it, but I know it will took deeper thoughts and I have many reactions to tell. But overall, it's pretty violent for my taste (otherwise, it could be on my top 5) but it have one of the message that get me thinking for days. I never saw Kim Ki-duk's movies before, so I have no comparison. Pieta's theme is revenge and mother and son relationship, but it's one of the movies that was pretty painful to see and stayed in your mind. Jeong-jin Lee and Min-soo Jo was really great in this. One favorite scene in it was when a young husband willing to get his hand harmed to have money to pay his child's birth operation.
Movie Score : 4 Stars
The Great Gatsby (2013)

Beautiful visual and music, and terrific cast sometimes still need X factor. Though Luhrmann really want this movie to be extravagant and mesmerizing, but many times it failed. I felt it such a mess at front, and it didn't used the CGI effect realistically. I however loved Leo's performance, it reminded me of Romeo + Juliet (which I think is better than this movie). Also Joel Edgerton's acting was quite good. I didn't really like Mulligan's role, but her acting capacity perhaps didn't used very well in the movie, almost only her angelic look. Sometimes the shots were jumpy one to the other, felt a tad in a hurry on editing and too fast paced.
Movie Score : 3,5 Stars
Short Movies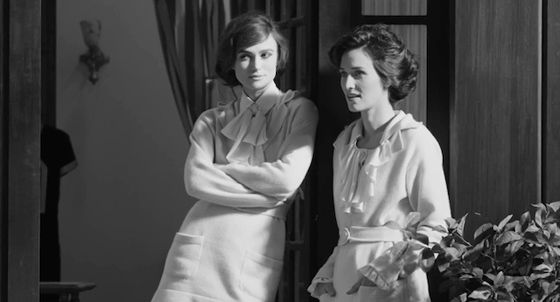 Once Upon A Time… (2013) : Karl Lagerfield's movie, of course properly brushed and clothed. This maybe the first time Keira acted and well, did not annoy me. Another adaptation of Coco Chanel, pretty decent and well-acted cast. Score : 3,5 Stars
3 x 3 : Neat cinematography, funny though no dialogues at all. Shows everyone can be everything when they set their mind to it. Score : 4 Stars
Apricot : I love the colors, the cinematography, the actors performance, the sound mixing and the nostalgic feel. I think it wanted to be moving but missed to be it. Perhaps it needed more story elements? Score : 2,5 Stars
Re-watch : Morning Glory (2010) & The Descendants (2011)


Two nice movies to spend the day-off. Rachel McAdams was sweet and her spirit was infectious in Morning Glory (2010). While Clooney's excellent in as a struggling father and husband in The Descendants (2011), but I admitted that he was not as good as in Up in The Air.
Top 3 in May :
Pieta, Nicky's Family, and Parked
Other posts you might've missed :
Soundtrack Pick : The Great Gatsby (2013)
Inspired By #3 : Singles, Hachiko & Links
Classic Romantic : Atonement (2007)
****************
Hope June will be filled with great experience in movie watching as well. Now it's your turn, what's your favorite and worst movie in May? Or, do you have any thoughts?