30 Days Recap : October 2012
Happy Halloween! Happy 5th birthday too for LAMB. We're reaching the end of October. What to anticipate in November? I have to say, since I saw a couple of last Bond films, I am now eager for Skyfall. It shall be in theaters tomorrow on 1st of November. I am also hoping to attend Europe on Screen, it's a film festival for European films and the whispers said that they have a great line-up.

Now back to October, I have two posts only for Halloween. One, I've posted; Preppy Vs Daring : Dark Shadows (2012). The second will be up on Friday. I also saw a bunch of

2012 films I anticipated, like On The Road and Ruby Sparks. Some were quite like I expected, some were not. One thing I can say is, my new favorite couple is Paul Dano and Zoe Kazan. Their chemistry was very natural on screen, that I thought they should date in real life. And, what do you know, they have been dating for 5 years, good to know!
Back to movies, I'm grateful that my blogging break didn't stop me to watch a bunch of films. They have been pretty cool. But unfortunately, I must pass the classic review this month. Take a look at my mini reviews of movies I've seen first time this month :
Vincent – short (1982)

  It was Tim Burton's first stop motion movie, dark and poetic. I discovered that Tim Burton was once worked for Disney and he was encouraged to make his own movie by his work partner. Vincent surely is a promising first movie. I didn't watch it with subtitles so I find it a little confusing.
Movie Score : 3,5 Stars
–
What to Expect When You're Expecting (2012)
I didn't expect it to blow my mind, but it was not the best movie I've seen this year. Three actors that surely was the boldest or funniest was Chris Rocker, Elizabeth Banks and Rebel Wilson. Anna Kendrick and Chace Crawford's story was cute and I find them both as a cute couple. For a moment the ending was pretty touching.
Movie Score : 2 Stars
–
Mendadak Dangdut (2006)

This Indonesian movie was pretty hilarious and packed with good drama element about sisterhood. A story about a girl rocker and her sister as her manager runaway from the police, after they discover there's illegal drugs in her car. To cover their trace and also fill their wallets, the girl must be a Dangdut (folk Indonesian music) singer and perform in the slum neighborhood. I loved and enjoyed it very much. Titi Kamal was great as a whiny younger sister and a singer, but not on the climax. Kinaryosih was excellent as her nurturing and indulgent sister.
Movie Score : 4 Stars
Quantum of Solace (2008)
It was my own fault to focus on Daniel Craig on the cover and didn't pay attention to the title, so I thought I was watching Casino Royale. Quantum of Solace was filled with action, but not enough suspense. The story wasn't very intriguing and a little flat. Olga Kurylenko was good, but I haven't seen much of Bond films. But this movie successfully made me want to see Casino Royale, just because I want to see Eva Green as Bond's love interest.
Movie Score : 3 Stars
Hunger (2008)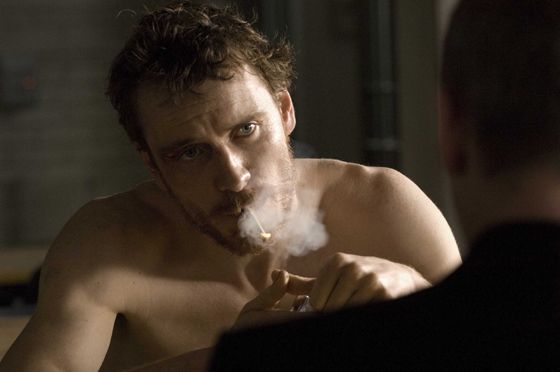 Hunger was slow in the first hour, then it got more intense when Michael Fassbender entered the screen. If you watched Shame first like me, this Steve McQueen's directorial debut also allow the viewers to study about the character's situation and their daily activities without many words. It was a bold story with a heartbreaking ending, but I did wish it has something more. Fassbender was excellent, one of his best performance.
Movie Score : 3,5 Stars
Looper (2012)
Looper was a very interesting movie, but it's not for you who hates thinking when watching an action movie. The trouble for me was keeping it all made sense in my head while the story goes. Willis was still Willis in it, while Joseph Gordon-Levitt was Willis too. To be honest, I didn't find JGL's acting was perfect because he was clearly more about imitating Bruce Willis than acting. Which is a shame, since JGL is one of my favorite actor. His face was a tad freaky to look at. I also loved Paul Dano and Emily Blunt's performance. But for the story, it has indeed a great script. It's one of sci-fi films that made me think about the circle of life.
Movie Score : 3,5 Stars
To Rome With Love (2012)

Most of the reviews I heard and read about this movie are true; that it didn't have a best-selling story, though it was filled with great actors. I did enjoy seeing Roberto Benigni's performance again after Life is Beautiful. The idea of Jesse Eisenberg and Ellen Page together was great, both have excellent chemistry. Also, seeing Roman scenery was a treat. But the premise wasn't that exciting or new, it has the same roots like You Will Meet a Tall Dark Stranger (2010) or like plenty of Woody Allen's work; attracted to another person while you're dating with someone else, or being tempted by. Several stories in it didn't have any strong foundation, it was weaken until it got to the end.
Movie Score : 2,5 Stars
My Sassy Girl (2001)
I decided to give My Sassy Girl another shot, after my friend encouraged me since it's one of his favorite movie. It was a strange romantic relationship between a violent girl and an obedient but funny guy. What turned me off earlier was how the girl's treating the boy, but it actually has a very moving story behind it. It was a truly hilarious rom com but in the end it felt a little bit too touchy-feely (or I'm just not that kind of type). I occurred to me that the story showed how we don't get to choose our mate, but we'll be with someone we're right to be with.
Movie Score : 3,5 Stars
Rock of Ages (2012)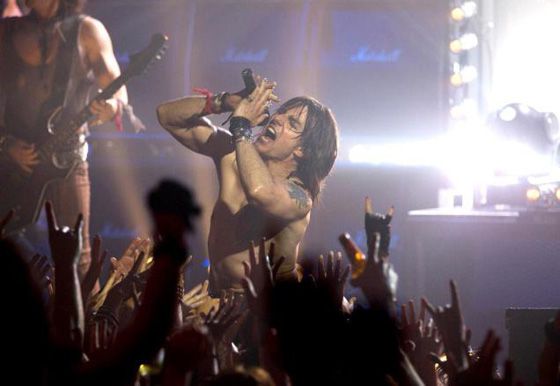 This movie is truly a guilty pleasure for you who love '80s rock. Though it was based on a musical play with the same name, I couldn't to think that it was Glee-like or Glee-inspired. It starred also by a Glee guest star, Diego Boneta. Given that it was made by the same director who directed Step Up Revolution, it became clear that this movie's strength other than reminiscing rock in the '80s, was the actors' performances. It seem lacked on depth in the drama part, and it was a bit predictable. One actor that saved the movie is Tom Cruise, as Stacee Jaxx, the charismatic rockstar who have strong masculine aura around him. I still wonder who was his inspiration for being Stacee Jaxx, because his acting was very much excellent.
Movie Score : 2,5 Stars
Casino Royale (2006)
This is the movie that broke my thoughts about Bond movies. All flavours were rounded up in this 2 hours movie; action, intrigues, love story and suspense. It was longer than what I expected, but I couldn't turn away from the screen. Daniel Craig and Eva Green was good together, a perfect match. All I can say now is; get me more of this movie. Here comes Skyfall, let's hope it's as good as everyone expected.
Movie Score : 4 Stars
Reading its journey for the novel to be adapted into a movie actually surprised me, that Jack Kerouac himself asked Marlon Brando for playing Dean. I imagined that Brando would nail the part, but he didn't respond to the idea. Unfortunately, I didn't think that today's version of On The Road was good. It seemed that the lead characters was having fun on their own, not with the viewers. While I though Garret Hedlun was indeed good as an irresponsible pleasure seeker, but I didn't thought the same with Sam Riley as Sal. Kristen Stewart actually performed okay. It's a shame that the supporting actors like Viggo Mortensen, Kirsten Dunst and Amy Adams was only as supporters in it. I prefer Motorcycle Diaries, the movie Walter Salles directed right before On The Road.
Movie Score : 2 Stars
Top 3 October 2012
*****
Posts this month :
Memorable Movie Moments #3 : Rain
Rayya Cahaya Di Atas Cahaya (2012)
Weekend View : In The Mood for Love (2002)
Soundtrack Compilation #16 : Seven Psychopaths & Elizabethtown
Seeking a Friend for The End of The World (2012)
Preppy Vs Daring : Dark Shadows (2012)
Upcoming posts/reviews :
Ruby Sparks (2012)
How To Train Your Dragon (2010)
Katy Perry : Part of Me (2012)
****
What about you? What is your best and worst movie you've seen in October? Or, any thoughts about the mini reviews?