'50s Icon : My Week With Marilyn (2011)
It might be 70 years has passed when Marilyn Monroe, the American actress, singer and sex symbol was on her golden days. In 2011, Michelle Williams earned her Oscar nomination for her performance as Monroe in My Week With Marilyn. The based-on-memoir movie shows a slight of her life as an icon. There Williams was supported by excellent make up and wardrobe. Though the focus was Marilyn and her image as quite a sexy actress on her time, her costume design showed a blend of class and glamor in the '50s era.
This edition of fashion from movies, I decided to highlight Monroe's look in My Week With Marilyn, where Williams lived as her on screen amazingly. It seems that her must-have-items were white heels and shawl. Here are wardrobes :
White shirt, Pencil Skirt and White Heels

 –
–
 Black Turtleneck & Cropped Plaid Pants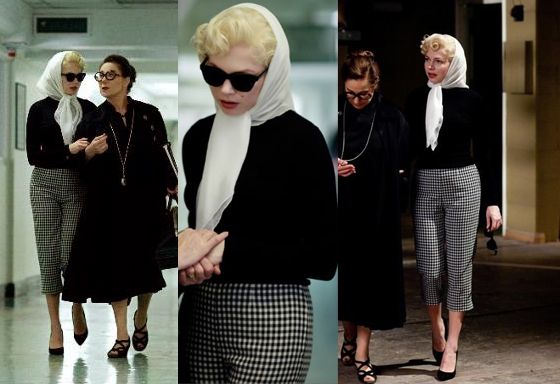 –
–

Thank you, Polyvore
 **************
 Readers, any thoughts? Did you liked or hated the movie? Which one is your favorite?