Classic Review : Stand By Me (1986)
"Everything was there and around us. We knew exactly who we were and exactly where we were going. It was grand."
Directed by Rob Reiner, Stand By Me (1986) was based on Stephen King novel, The Body, who King claimed as the first successful adaptation of his book. The story starts when adult Gordie heard his childhood friend, Chris died and he starts to reminisce the day when both were 12 years old. Together with two friends they made an unforgettable journey to find a missing boy in to the woods.
Many Rob Reiner's work are terrific, though some I've already seen not outstanding but heartwarming. Many people were impressed by The Princess Bride (1987) and A Few Good Men (1992). The most current that I've seen from him was Flipped (2010) and it was delightful. Though not as outstanding as Shawshank Redemption, this was a light coming-of-age movie that I never thought Stephen King would write (except the missing body part story).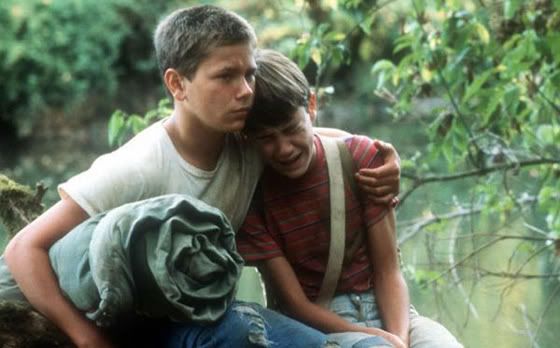 Stand By Me was simple coming-of-age early teen movie, with uncomplicated story line. It could get more thrill (considering they tried to find a dead body) but it was more focused on Chris (River Phoenix) and Gordie (Will Wheaton) friendship. Chris was the gang leader and Gordie's best friend, but Chris was labeled as a bad boy who stole the school's money. Though smart and creative, Gordie's father have more hopes on Denny (John Cusack), Gordie's older brother who passed away. After four months of Denny's death, his parents was still in shock and made Gordie thinks he is an 'invisible' boy. The other two boys, Teddy (Corey Feldman) and Vern (Jerry O'Connell) was more of the silly and crazy part of the gang. Teddy have a tempered father who nearly burnt his ear and Vern was more of the underdog member of the gang.
Though it was about four young boys, their acting was far from disappointment. Young River Phoenix showed much of a talent and impression, played a rebellious but caring friend. Will Wheaton captured Gordie's calm and smart character. Jerry O'Connell showed his funny talent from his young age. And Corey Feldman have many guts and character to be a 'crazy' kid. They were all very natural being in their characters, and also have a good connection as a gang. Don't forget the local bully gang leader, "Ace" Merill played by Kiefer Sutherland, who was pretty tough and fearful.
Though started out slow and not many element surprises, Stand By Me proved to be memorable when it got to the ending. It centered on the boys in a path way between their childhood and adulthood. The usage of guns and cigarettes might prevent some parents to show the movie to their kids, but it was one of the elements that made the movie felt real. The very moving part was when Chris and Gordie shared their fear and thoughts, how their labels from parents and people feared them to get their dreams.
This movie also showed how a friend's comfort and support can help get through though phase in life. To me the very best quote that I find true was Gordie's writing, "I never had any friends later on like the ones I had when I was twelve. Jesus, does anyone?" Perfect usage of Ben E. King's wonderful song (and movie title), Stand By Me, and the movie's delightful as it is.
Movie Score :