Movie of The Month : Intouchables (2011)
"This is not just a job anymore."
Most French movies I discovered have a bed scene that raised my eyebrows. Not with Intouchables (2011). If there's a bit of a love story, it was a decent one using classic way, which is writing love letters. The movie reminded me of in any relationship, it's best to have a chemistry to somebody. Not just with your spouse, but also with your work partner and definitely, with your friend.
Philippe (François Cluzet) is a rich quadriplegic, who can't move his body members other than his head. It's not Driss' (Omar Sy) purest intention to be Philippe's live-in carer. His first intention was to get a signature and rejected to continue to get his welfare benefits. Instead he is hired by Philippe. Driss doesn't have much trouble in his job, other than taking care of Philippe's body disposal. Driss also flirts with Philippe's assistant, Magalie. Although Driss criminal record concerns Philippe's friend, Philippe have no intention to fire him. Driss continue to help Philippe more than his job and to his personal relationships, including to have his daughter respect him and giving him courage to meet his love interest where he keeps writing letters to. But, one day Philippe must let Driss go to let him take care of his family and his siblings who got involved with gangster.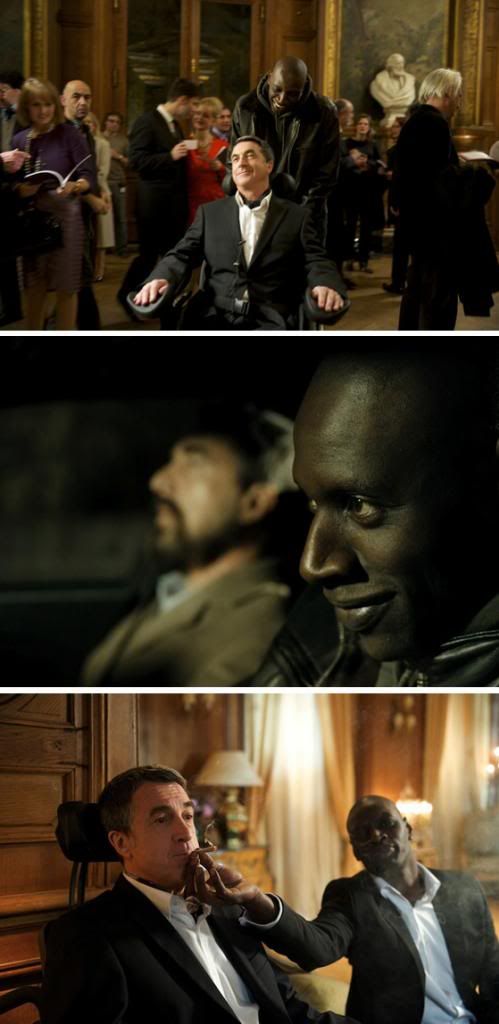 The best work partner must be with your trusted best friend. You'll have fun together, enjoy each other's company and no pressure to impress another. Luckily, Driss wasn't the ordinary nurse who worked formally and intimidated by Philippe's wealth. Instead, this ex-convict treated him normally and he never acted less than himself. His outgoing and straightforward characteristics was a good contrast for Philippe's condition, where his physical limitations left him feeling useless and serious in all times. I couldn't help but laugh on Driss' jokes or honest commentary, but his shameless attitude added a fresh color to the mansion. His way of cheering Philippe might be breaking the rules of caring, but we couldn't help but sympathize since Philippe almost forgets to enjoy life with his condition.
There's nothing more heartbreaking story other than a story based on true events. Intouchables was a real life story of Philippe Pozzo di Borgo and his caretaker Abdel Sellou. Omar Sy was excellent and natural as Driss, and I honestly think he should get more awards for this. The best job in the world is where you do it with heart, and once it's start there then more joy will come. That scene where Driss danced in Philippe's birthday party was the best, and introduced me to Earth, Wind and Fire. This is easily one of my favorites this year.
Movie Score :