Life of Pi (2012)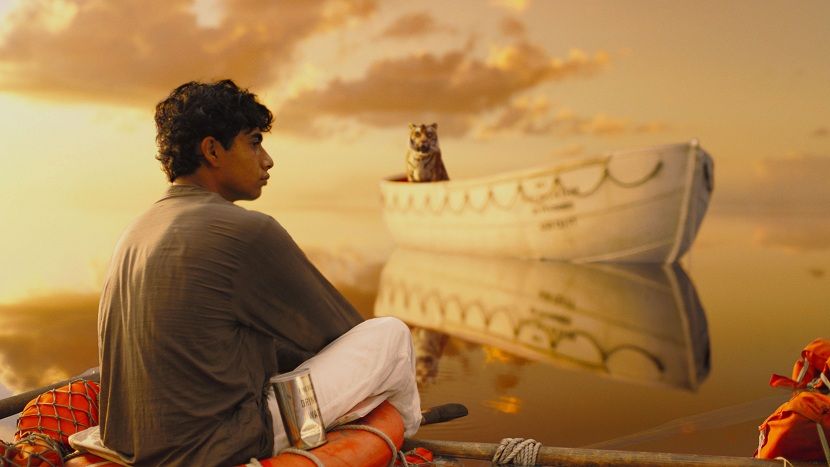 "All of life is an act of letting go, but what hurts the most is not taking a moment to say goodbye."
I read somewhere that good movies makes you forget about your world, and takes you on an emotional ride. Life of Pi was based on a novel by Yann Martel, and directed by Ang Lee (Brokeback Mountain, Crouching Tiger Hidden Dragon), has its own way to combine the spiritual story and breathtaking visual.
It started when a writer looking for a story for his novel, visits Pi (Irrfan Khan) or his full name, Piscine Molitor. He is an Indian immigrant living in Canada, who's story was recommended by a friend. His friend said that Pi has a story that would make him believe in God. Pi starts to tell his childhood story. The story flashbacks to how he is raised by a father who doesn't believe in religion. Even so, teenage Pi is curious with religions and follows three of them. His father owns a zoo, where they also live with Pi's elder brother and mother. Pi's father tells him and his brother strictly that tigers are dangerous animals that could kill them in a second. One day, they must move away from India to Canada. But the ship sinks on their way to the country. Pi is left in a boat, with a zebra, orangutan, hyena and later a tiger called Richard Parker. Some of the animals are killed by other kind, until just Pi and Richard Parker. But can Pi survive, after his father warned him about the tiger's killing instinct?

  I read that Life of Pi was this year's Avatar. But honestly, I loved this one more than the blue people. What made a movie memorable to me was the story, though visuals are also important. Life of Pi spoiled the viewers with amazing and mesmerizing visuals of nature. When Irrfan Khan started to tell a story, his background dissolved to the set of his story. My favorite beautiful scene was when Pi looked at a thousand of glowing jellyfish in the sea, its glow reflected back to his face. Of course, there was something so peaceful looking and hearing the animals in their nature. This movie probably took me to the place I want to be when I felt crowded with the city, sort of like having an outdoor jungle vacation with your eyes. What more joy and serenity for the soul, than looking at nature?
Pi's turning point was when he lose his family and stranded with a bunch of animals he never interacted before (except for Richard Parker when he was little). He read a survival book in the sea, but a book is a theory that sometimes failed. In the end, he must improvised to survive, which means he should face his fear, a Bengal tiger. There comes a time when a man questioned his life purpose, why he experienced an unpleasant fate. Since Pi was always a spiritual man from the start, it's interesting to see his mind struggle on surviving with a bunch of animals without trying to kill them. He knew that it was not his right to kill another kind. Perhaps the appeal of it all was Pi's pure soul, and how he was roughen by surviving in the wild. It struck me though this movie showed that humans are never alone living on Earth. Sometimes we forget that animals and other living creatures are souls too.
I don't see a lot of movies that can combine a good story (spiritually) supported by a magnificent visuals (that isn't an animated movie). Usually it's just one or the other.  Irrfan Khan most definitely showed his depth on being adult Pi. But it was Suraj Sharma who played teenage Pi Patel who stole the show.
I must say thanks to Coldplay's Paradise that appeared in Life of Pi's trailer. It made me want to see the movie in the first place. And so, Life of Pi is one of the best movies I've seen in 2012. Though the ending was a bit vague, but it was purposed that way like Inception (2011) did. It's recommended to see this movie on the big screen. I am now curious to read the novel.
Movie Score :