Lovely Man (2011)
"Do you still remember you liked to play in the rain? Life is like that. You don't have to be scared and hide to take shelter."
One of my most anticipated movie to see this year is Lovely Man (2011). It's a story about a recent high school graduate, Cahaya (Raihanuun) who goes to Jakarta to meet his father, Syaiful (Doni Damara). But when she meet him, she find out that her father is a transgender.
If A Separation won Best Film in 2011 Asian Film Award, Doni Damara won Best Actor for his appearance in Lovely Man. The transgender topic to be raised in a movie was a brave choice among other Indonesian movie, since transgender tend to be an excluded group in the society. Teddy Soeriaatmadja made the movie from a conversation he heard from a girl about her transgender father. It was made from a 'survival' technique (as the director stated), meaning it was made with low budget, explaining why the movie used handheld camera.
There were plenty of different values from both central characters, Cahaya and Syaiful or Ipuy. Cahaya wears veil and graduates from moslem school (pesantren) and his father wears provocative clothes for his work, which pleasing men for money. Cahaya is polite and gentle, where Ipuy says what he wants to say and pretty sensitive, gets angry easily. Syaiful himself have double human layers, he dresses like a woman but he is also a father. But both differences seem nothing when the story reveals that Ipuy has paid for Cahaya's school in the last 15 years. One of the most shocking and also heartbreaking scene is when Cahaya opens her veil to make her father more comfortable, since a transgender and a veiled young girl sit together are an odd view and rarely ever happens. Teddy Soeriaatmadja made the both world combined and worked well in Lovely Man, without having too much fantasy or too depressing.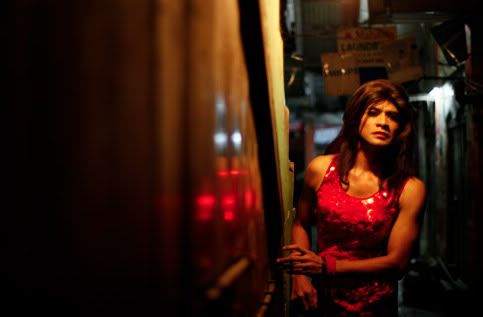 It's the kind of movie where black and white world changed and dissolved, in the end it's only on the surface. You can't deny that the story tend to humanize transgender, showing that they also have feelings and dreams, despite of what (some) of them do for a living and how people see them. Their 'unique' attitude sometimes rich the story to be humorous, behind the sad reality. Dony Damara was natural and amazing as Ipuy, a transgender with the heart of a father. Given that Donny Damara's real appearance is a good looking man, it was pretty shocking to see him as a transgender in it. Donny Damara's connection with Raihanun were also excellent, the dialogues felt real and they stayed true with their part.
There were also sentimental feeling inside the movie's atmosphere, plenty of little details of the city. But at the same time, it was pretty real. The movie also showed much of night view of Jakarta. Some people might bothered with the unstable handheld camera but it wasn't bothering me. The atmosphere felt familiar, because maybe I know the streets and the city (since that's where I live).
Cahaya's motive to meet his father turns out have other agenda other than to meet him again. The last time she saw her is when she was a little girl. Limited time for Cahaya to spend with her father, made the story more exclusive as she gets to know him and his world. I can't reveal more because it will spoil the story. Don't miss this movie if it happen to be screen at your city, it's one of the wonderful new movie from Indonesian director, Teddy Soeriaatmadja.
(the quote was translated from : " Kamu masih ingat kan, dulu kamu suka sekali main hujan-hujanan? Kira-kira hidup seperti itu. Kamu tidak perlu takut dan bersembunyi untuk berteduh…" I did not remember the original English-translated sentence, so I translated myself)
Movie Score

: