Review : Sister (2012) & Diana Vreeland : The Eye Has To Travel (2011)
Continuing my quest watching Europe on Screen, I saw Swiss drama, Sister and documentary Diana Vreeland : The Eye Has To Travel yesterday at Istituto Italiano Di Cultura. From the movies I picked that day, I loved the documentary more than the drama. I'm beginning to love documentary, because we learn more through true events and people. Read more about these two films :
SISTER (2012)
In Sister (2012) (L'Enfant d'en haut), 15-year-old Simon (Kacey Mottet Klein) live daily by stealing and selling ski equipments. Her so-called sister, Louise (Léa Seydoux) supported by his profits, often went away with her boyfriends. Simon meet a mother, Kristin (Gillian Anderson) in the ski resort where he claimed to be a son from a hotel owner. Simon live day by day persistently selling his 'product', to keep him and his sister survive. But somewhere between his struggle, Simon reveal his real need as a child, the need to be nurtured by a parent.
With little twist and music support, Sister wasn't the kind of drama movie with a lot of dramatization. The reality is sad and thrilling enough. The movie's pacing felt running flat in the first half, showing more of Simon's daily 'work' and his relationship with his grim sister. But once the twist arrived, you can't help to feel shocked and sympathized to Simon.
It's nice to see more performance by Léa Seydoux, since previously she performed small roles in big movies like Midnight in Paris and Mission Impossible : Ghost Protocol. Her bitter and cold look helped her character a lot. Klein was convincing as a teen forced to be an adult. And too bad Gillian Anderson only appear in few scenes, but she looked very motherly and affectionate, perhaps it's Simon's image for his own mother. But his real purpose of approaching her were never clear.
You never know someone's suffering by a glance, but to see Simon's angle, he looked tough but inside he's broken. Sister is a tough drama indeed, not for entertainment seeker, but to remember that not everybody can get a ticket to Charlie's Chocolate Factory. Everything must be pursued and everything has its consequences.
Movie Score : 3,5 stars



********
DIANA VREELAND : THE EYE HAS TO TRAVEL (2011)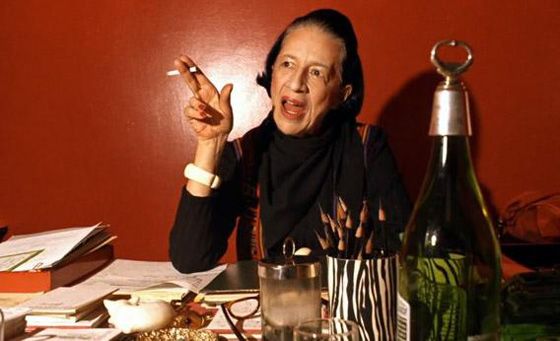 Giving that I am interested to fashion, I decided to give myself a chance to see a documentary about Diana Vreeland, a well-known genius in 20th century fashion world. The film was based on recorded conversation between Diana and writer she appointed, stating that she wanted him to write her biography. And in between, her friends and assistants, also her sons and grand sons shared their thoughts about Diana, mostly her love and vision for fashion. Diana was the eldest daughter of a socialite couple. Her mother always said that it was a shame that she's not as pretty as her other sister. Even so, Diana kept going, doing what she loved and entered fashion world even though she didn't have a degree at all.
As the fashion editor in Harper's Bazaar and Vogue, she worked with Twiggy, Mick Jagger, Cher, and many more. What's more fascinating was that she did not care if they are famous or not, only they have uniqueness and character, and they will look good in camera. Many of her ideas are used in the fashion industry until now. Jackie Onassis wrote letter to her to get her advise for wardrobe to wear when (in case and it did happen) her husband became the president. There's also a couple of classic movie based on her, such Funny Face, starred by Audrey Hepburn.
To be honest and perhaps because I am new to the world, I did not know Diana Vreeland before. But it seemed that she's the real powerful fashion icon way before Anna Wintour exist. She was the kind of woman who never settled for anything ordinary, because it's boring (as many of her quotes saying that). The most memorable quote I remember from the movie was when she told her son in school to be, the top of the class or the bottom. Many people are afraid to stand out, but those people aren't Diana. And it seemed that she won't stop creating.
Diana Vreeland : The Eye Has To Travel showed plenty of Diana's tough and ambitious personality, in the era where they looked down on working women. It didn't show much of her family stories, only few of the son and grandson statements that Diana wasn't an ordinary mother and grand mother. One of this documentary directors is her granddaughter-in law, Lisa Immordino Vreeland. There were many praises of her visionary work, but so little of her low points, which could add a little more color. But the documentary gave enough boost in order to succeed you must be consistent, passionate, focus and have courage.
Movie Score : 4 stars