Review : The Sapphires (2012)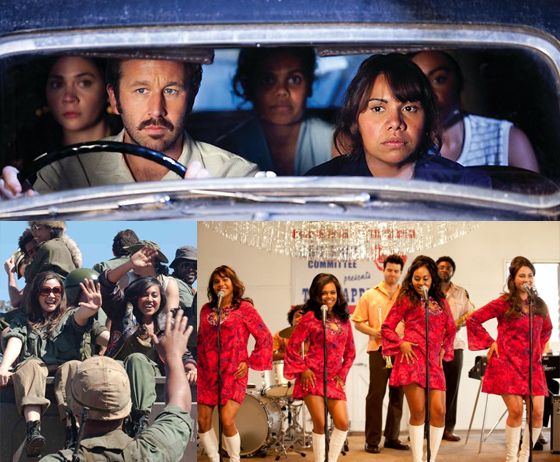 "Country and western music is about loss. Soul music is also about loss…. In soul music they are struggling to get it back, they haven't given up."
Stories about sisterhood can easily interests me, perhaps because I have sisters on my own. Even though in a glance The Sapphires reminded me of Dream Girls (2006), the truth is these Indigenous women's career feels less glamorous than them. Indigenous Australians are the original inhabitants of the Australian continent and nearby islands.
The story starts when the four young women (Gail, Julie, Kay and Cynthia) are still little girls, singing in a small local show with their proud parents and warm neighbors watching. When they grow up, three of them still want to perform. Two of them signed up for a contest, but the youngest, Julie, couldn't go because her parents won't let her go. But she's so determined to join that she drove to the place anyway. They sing best from other contestants, but apparently the committee have problems with their color.
They end up having serious conversation with Dave (Chris O'Dowd), who is the talent show host, who seem to be the only one in the talent show blatantly acknowledge their great talents. He agreed to be their group manager. Their next goal is to sing for the US troops in Vietnam, but they have to go audition first. Making sure of their parents isn't easy at first, but they managed to go. When they pass the audition in 1968, the path to their dreams are open and so with the big changes in their lives.
If you look at the premise, you probably can guess the story. Even so, this is easily a food for you feel-good movie fans. Not that it's wrong, because The Sapphires still is a good movie. What makes it beautiful, is the performances of the four young women. Though naive and clueless, have a strong will to chase their dreams. Nothing can beat their glowing faces when singing a song. And you can bet their singing is without a doubt, a beautiful character. And because they already close since child, they fight like sisters. Each of them have a nature personality to be outspoken, so it's pretty funny seeing them sharing their opinions and surprise the others. Each have different personality, each makes the story rich.
Of course, there's a love story happened to the girls, each with different style. One easily hook up with guys, the other still hung up with a boy in the past. Kay have the cutest story, as this half Indigenous girl meet a black soldier who falls in love with him. But there are forced chemistry from a couple unite in the end of the story.
Standing next to the girls is the easygoing but genius manager, Dave. Dave added more color to the determined girls, but his easygoing personality sometimes interfere with the group's harmony. Dave often have a fight with Gail, who is the biggest sister and spends most of her life looking up for her sisters. Gail's the toughest and often annoy people around her, but she's really the most selfless person in the group.
Singing in front of US troops in a foreign crisis country surely is different from singing in a concert hall full of music fans. The soldiers need entertainment bad, and the girls can't be too trashy either, because it's not the point of they being there. The girls have to be the entertainment, they can't look stressful, even when they have big risk singing in this place. But to sing there consistently, prove that they love their job that much.
The Sapphires was based on a stage play with the same name, and it's also based on a true story. Wayne Blair, the director, also have Indigenous blood. The Sapphires proved that singing and helping others can walk side by side. Also, to be successful, you should be open to criticism to grow.
Movie Score :