Review : To The Wonder (2012)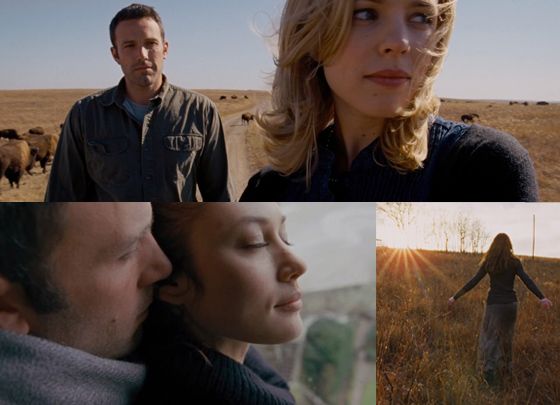 "…I melt. Into the eternal night. A spark. You got me out of the darkness. You gathered me up from earth. You've brought me back to life."
Couple days ago I managed to see Terrence Malick's To The Wonder (2012). Even though I always give Rachel McAdams a chance, since she's such a delight to see on screen, I didn't have high expectation on seeing the movie. I do find Tree of Life (2011), Malick's previous film, as a standout, personal and beautifully shot. But I'd think again to give it a re-watch.
To The Wonder tells the life of French woman Marina (Olga Kurylenko), and her relationship with a man-with-few-words, Neil (Ben Affleck). Marina is a single mother of a daughter named Tatiana. Though Marina feels complete and in love with Neil, they can't marry each other because Marina is still another man's wife. His husband runaway with another woman. Marina and her daughter moved from French to live with Neil in America, but somewhere between her hanging relationship with Neil and her homesickness, she feels she need to get back to Paris. When Neil didn't stop her, she have no reason to stay. After she moved away, Neil start a relationship with Jane (Rachel McAdams), a woman he know from the past. Jane wants both of them to get married, but then Marina tells Neil that she's lonely in French. The source of her loneliness is because her daughter now lives with her father and the fact that Marina still think of Neil.
Malick still used his style of shooting beautiful frames with beautiful background, little but meaningful gestures and movements, like Marina holding Neil, Marina plays with Neil and Tatiana, and many others. It rarely used an actual dialogue, but most of all used poetic narrations who shows the love triangle story. It's been said that the actors acted without actual script. And that's why I thought, editing wise, that the images were pretty generic sometimes, though the narrations told us something big happens.
This thing irritated me at times, but the poetic words and beautiful shots are just too good as a combination. After all, I can relate to the theme, and all I can say is that the movie's just beautiful. It simply showed the fulfillment a couple feel with each other without many justification, it's just is. To me, you rarely find it in movies these days. Somehow the shots showed simple but beautiful things, like hand movements, feeling each other's presence, clinging to another, jumping in the bed, running and playing in the field. It's all very simple, playful, and more importantly, peaceful. Which I think it's one of the best things in the movie.
Olga Kurylenko's performance was natural beauty, didn't use too much support of make-up and upstyle clothing, it showed more of her depth as an actress. Almost didn't recognized her because of her tan look in Quantum of Solace. I find her character and her playfulness with her daughter almost similar as the mother from Tree of Life, though she's more witty. It's too bad that McAdams here only as a supporting actress, almost as underrated as her role in Midnight in Paris. But I think the biggest disappointing factor in the movie to me was Ben Affleck as Neil. I read that the role was suppose to be for Christian Bale, which I though should be excellent, but Affleck just seem flat as Neil. I never see Affleck as the muted guy. But even when someone rarely speaks or share his thoughts, doesn't mean he's not doing anything. Another disappointment to me was the priest story, Father Quintana played by Javier Bardem, which until end I still wasn't quite sure the essence of his role was for.
Back to the minimum dialogue and 'generic' visuals, I felt the result of the movie was not to emphasize cause and effect, but rather the feelings in the relationship; like the crisis, feeling hurt and irritated. Unfortunately, this kind of approach won't win everyone's vote in terms of favorited movie. In fact, the ending was unsatisfying to me. Perhaps gaining box office and satisfying viewers aren't Malick's goal. But I will always see To The Wonder as a visual poetry, maybe not to find a definite morale message or meaning, but to feel and to experience.
Movie Score :