Ruby Sparks (2012)
"You may see this and think it's magic. But falling in love, is an act of magic."
Suffering writer's block apparently still have its own appeal to be a story. It's what Calvin's (Paul Dano) seem to deal with these days in the movie Ruby Sparks (2012), always facing a blank page on his typewriter. Thin and awkward, lives only with his dog and single. Calvin managed to create a best-selling novel 10 years ago, when he was in high school. When they are celebrating the 10-year-novel, Calvin still seem unhappy with his unability to write again.
One night, he dreams meeting with an attractive straight-forwarded gal (Zoe Kazan), which inspires him to write again. He begins to imagine her, where she came from and her history of love affairs, also name her Ruby Sparks. His brother, Harry (Chris Messina) and his wife found girl's underwear in his house and later a bunch of girl's things in his drawer, make them think that he's involve with a girl. Calvin thinks that it's his dog who found the items from another place.
The next morning, late for a meeting, Calvin wakes up and found a girl in his kitchen. The girl is from his dreams before, Ruby, who claims that the underwear is hers and that they were dating. Panicked that he's having an hallucination, Calvin goes out from his house but Ruby insisted to join him. After a fight with a random girl, Calvin realize that Ruby is indeed real and people can see her. Calvin welcome her to his life, and experiencing a honeymoon phase of relationship. But what he realize later, is that Ruby's entire action and presence is based on his writing, which makes him in total control of her. Is this good or bad? I guess you have to watch it yourself to know more.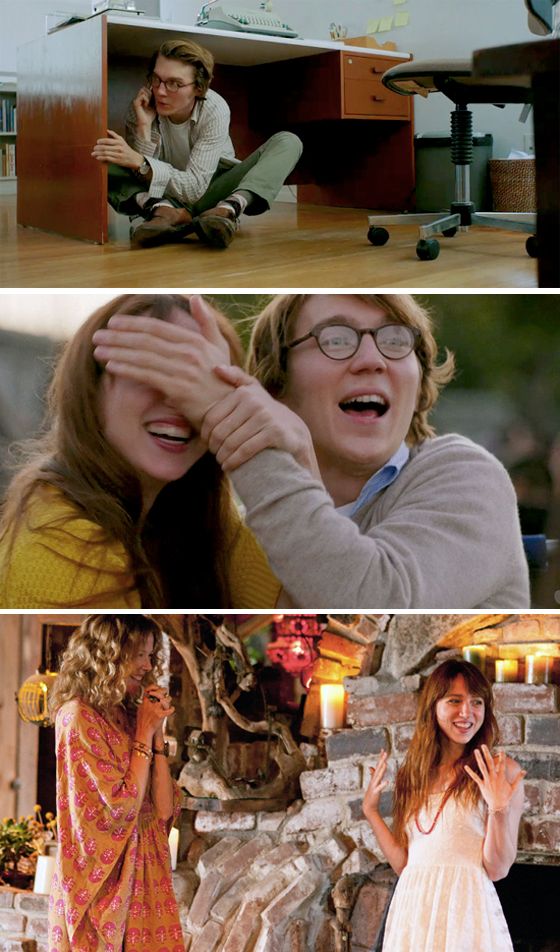 Ruby Sparks was one of my most anticipated movie in 2012, proved to be as sweet and as good as I hoped for. Written by Zoe Kazan herself, with her real boyfriend Paul Dano in mind as Calvin, and inspired by The Purple Rose of Cairo and Groundhog Day. Jonathan Dayton and Valerie Faris as the directors worked with Dano before in Little Miss Sunshine (2006), which is the movie that introduced me to Dano's great depth as a young actor.
The strongest points in Ruby Sparks was the chemistry between Paul Dano and Zoe Kazan, which I didn't know before that they already have been dating for 5 years. They clicked so much like they were yin and yang. That is one big factor to make a romance movie work. To say who has the best acting as the lead, I say both Dano and Kazan. And I haven't liked a couple on screen like this since 500 Days of Summer (2009).
True, the center of the story is Calvin and his isolated world. Which perhaps what made him unable to write anything the first place. From his shrink's dialogue to him, it revealed how he rarely spent time with anyone other than his dog and his brother. The existence of Ruby Sparks in his mind jumped out of nowhere, and how she was transported to the real world wasn't exposed, so the focus was more on the drama.
All other characters supported them excellently, like Annette Bening as Calvin's mother and Antonio Banderas as Calvin's step father. The houses were excellent; Calvin's minimalist house and his mother's nature feel of home.
The comedy and drama element blend nicely, as the result this was a light and thoughtful drama about relationship and relationship to self easy to digest. Though this romantic comedy's plot was a bit readable, but it was still an entertaining watch. Also, gave me a little bit thought about treating your spouse. There's a rare truth about how we sometimes control things we can't control. Good script by Zoe Kazan, and one of the sweetest movie I've seen this year.
Movie Score :