Weekend View : Les Misérables (2012)
With the heavy rain showered Jakarta, I was having trouble trying to see Les Misérables in it's early regular screening. But this weekend I finally managed to see this 8 Oscar Nominated film. Scroll down to read the review!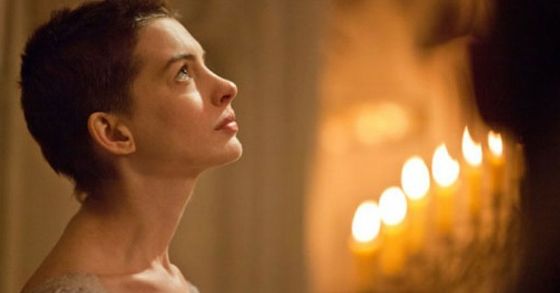 Les Misérables was based on a novel and was adapted to a musical play. His character was Jean Valjean, a former French prisoner who's got his turning point after received an enlightement being helped by a priest. After 8 years, he is now the city's mayor and have his own factory. One of his worker is Fantine (Anne Hathaway) who is accused of working as prostitute and later got fired by it. Fantine ends up being one as she don't have any better choice to support her daughter's life. When Fantine is dying, Jean promise to support Cosette, her daughter and take her from her current guardian, Thénardier (Sascha Baron Cohen) and his wife (Helena Bonham Carter). All Jean Valjean's action is watched by Javert (Russell Crowe), Valjean's former prisoner guard.
After seeing most of his roles as a heroic leader, seeing Jackman in a more dramatic character is a surprise. Apparently, Hugh Jackman used to do plays back in his early acting career. As a mayor and a loving father of Cosette, his performance was almost nothing new. But as a poor and stealing ex-prisoner, I thought he has reached a higher level of acting throughout his career.

Jackman's singing was good, but what needs to be praised is Hathaway's rawness and nakedness in performing 'I Dreamed A Dream'. Purposedly lose weight and have a pixie cut hair (having them cut during the act!), especially because of her dramatic and desperate act was a perfect performance indeed. Hathaway showed the most commitment, or the most obvious from all actors. Unfortunately, she appeared only the first 30 minutes and a few scenes in the end.
I can't say that I am fully enjoy Les Misérables, mostly because almost all of the scenes, even when they are talking, they sing. Nothing wrong though, because it obviously was based on a classic play. And, I do admire how Tom Hooper decided to make the cast sing their own songs live when they are acting, without recording them first like usual musical movies. It did felt more natural and fresh, but the rest like the acting performance and its depth, all comes down to the actors. I think many of them, still having trouble to collaborate acting and singing. Not just reading lines and sing the lyrics, but to be part the story and to bring their characters alive.
Russell Crowe, Eddie Redmayne and Aaron Tveit were in this category. The best was still Hathaway. They didn't steal the screen, but Jackman, Sascha Baron Cohen, Helena Bonham Carter and Amanda Seyfried as teenage Cosette was good. I'm glad Seyfried could be in the movie with higher callibre, and her angelic look was a proper package for Cosette. Cohen and Bonham Carter thankfully add a little humor and fun to this film. The young actors, Isabelle Allen as young Cosette and Daniel Huttlestone as Gavroche was really natural and have incredible strong voice.
Like I said, Les Misérables was set to be dramatic and emotional. Is it me that maybe I happened to have a heart of stone, since I didn't cry except when Hathaway sang (just teary eyes), or this movie just lack the 'x' factor. I think it wouldn't be fair that my dislike-ness to classic musicals intrude the greatness of this movie. Les Misérables was truly a classic, but with its imperfections. I loved Tom Hooper's King's Speech a lot more. Aside the romance and the emotional story, the French revolution added up an interesting urgency and historical touch. And, it end up saves the ending to be more impressive and heroic. The truth is, up until I write this review, I kept hearing Hathaway singing 'I Dreamed A Dream.'
Movie Score :