Weekend Views : Passion (2012) & As Good as It Gets (1997)
Thought it's going to be a little while to post another of my own Weekend View. Considering that lately I rarely watch any movies, it such a breakthrough to even watch a movie, or two on weekends. But, last weekend I managed to do it! One is a rather new released thriller movie, Passion (2012) and the other's my kind of genre, '90s romance, As Good as It Gets (1997).
 Passion (2012)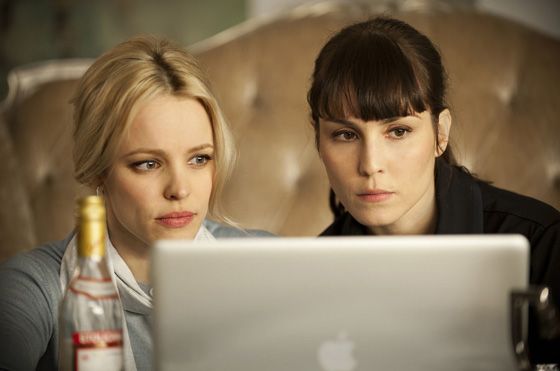 IMDB Summary : The rivalry between the manipulative boss of an advertising agency and her talented protégée escalates from stealing credit to public humiliation to murder.
I don't always choose thriller in my spare time, but this one have two leading actresses that I love starred together. Always a delight to see Rachel McAdams. And after Prometheus, Noomi Rapace just won me over. The basic story and starred by McAdams seems like it's a grown-up version of Mean Girls. But this one's actually an adaptation from a French erotic thriller, Love Crime.
McAdams was pretty intimidating and excellent as a two-faced character, Christine. Trying to look like a sweetheart but actually quite bossy and backstabbing woman. No complaints for her performance here. I really liked her outfits, with soft colors and red lipstick. With her pretty looks and charm, she's pretty much a scary opponent. Noomi however looked really green besides her as Isabelle, smart and full of potential but new in the business. I actually don't know why she always dressed in black.
While the two leading actress actually charmed the screen, it seemed that the cinematography was trying to adapt a classic thriller/horror look, but it bugged me the most. It utilized shadows, slanted close-ups but rather slow editing, makes it almost like watching an episode of TV thriller show. The clean look somehow made it less thrilling. What also irritated me was the lame dialogues, makes the movie felt cheap, if it weren't for McAdams to make it classy. There's a scene where Isabelle and Christine kissed and showed lesbian-love potential, but for an erotic thriller, they should have more chemistry. It also applied to Isabelle's friendly assistant, Dani (Karoline Herfurth).
Thankfully, Isabelle's confusion after using sleeping pills made a surprising good twist near the end. It had one quite horror ending, but if you're a thriller mania, you might see this as a light one and maybe not as memorable. Maybe if the look of the movie is darker and with more tense, it could feel more crunchy. The performances by the two ladies weren't maximized because of the minuses in this film.
Movie Score :
 As Good as It Gets (1997)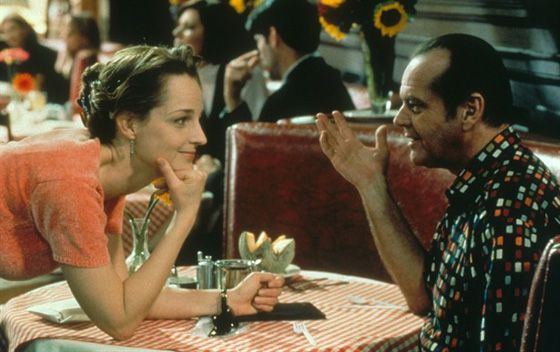 IMDB Summary : A single mother/waitress, a misanthropic author, and a gay artist form an unlikely friendship after the artist is in an accident.
As Good as It Gets is the type of '90s romance I missed; funny and heartwarming, with quite morale depth. I'm starting to warm up to Jack Nicholson after About Schmidt. Here he's still unsociable person, suffers obsessive-compulsive disorder, where he managed to be a sarcastic and too-honest man which makes people can't stand him. But Nicholson could make Melvin Udall, his character, a mix of all plus the sad truth about him makes it funny (in a good way). Melvin successfully made his neighbors dislike him, also the waitresses in the diner he usually eats. But in that diner, there's only one waitress who can keep up with him, Carol Connelly (Helen Hunt), a single mother of an asthmatic boy.
When Simon's dog was forced to be kept by Melvin and they actually bonded, when before Melvin hated the dog, it showed how a pet can triggered human's affection. Perhaps Melvin didn't realize that he needed a companion, or a pet to be taking care of. But it actually showed how deep down beneath his unfriendly attitude, Melvin still have some sorts of kindness. The pet and more in the story showed more surprises from Melvin.
The cast were great; Helen Hunt especially, aside from Jack Nicholson. Cuba Gooding Jr. still as energetic as his role in Jerry Maguire (1996), which perhaps his previous role before this one. And Greg Kinnear as Simon, the gay neighbor, could make us sympathetic with his looks. And more importantly, they all worked great as a whole cast.
As Good as It Gets actually have the kind of humor and performances that looked real in some way, a real life funny that was rare in movies these days. It didn't feel formulaic, though in the end it did. The plot can turn away, but stayed in the line, feels flexible because of the actors' improvisation. Knowing that Nicholson and Hunt actually won Oscar for their roles, I can't argue with that. Maybe Nicholson and Hunt is not the ideal couple in rom com class, but perhaps their realness makes it more approachable. It's a heartwarming romance movie, perhaps not as charming as You've Got Mail, but a delightful feel-good movie.
Movie Score :